My name is Christina but you can call me From Fat to Fit Girl. I set up FromFatToFitGirl.com after spending many months struggling with accepting my new fit body after losing 28 kg/62 lbs and going from an obese to a fit girl. I've experienced the biggest challenge  after the weight loss: the image of a body of myself I saw in the mirror felt foreign. It looked good, attractive, but I just didn't feel like myself. I thought that with losing weight I would gain a higher level of self confidence and a healthy level of self-esteem. But I was wrong: I was more self aware than ever before. I figured that my brain has not caught up with the weight loss yet, that's why I was still fat in my head. This bothered me a lot, so I tried to seek help, but no one understood what I was talking about. That's when I decided to research the issue of not being able to connect to my new fit body and start FromFatToFitGirl.com.
Why should You listen to me? Because we walk the same path, just have different shoes: it took me 6 years of trial and error to finally lose more than 28 kg/62 lbs for good. I've been a fat girl since I can remember: I hated sports and exercise. I've lost weight and started to regularly work out after my 30s! So it's never too late to develop a healthy lifestyle! While I was obese I occasionally went to aerobics classes and they were a disaster: it felt like my heart will jump out of my chest, I had breathing difficulties and shortness of breath, my joints hurt like hell. Every time felt like I was about to die. I figured I couldn't keep this up for long. So I tried: total body workout, fat burning cardio, disco dance aerobics, latino dance, belly dance aerobic and many other forms of cardiovascular exercises I can't even recall. But only doing cardio while overweight just temporarily burns calories and speeds up metabolism so I couldn't keep doing any of it long term.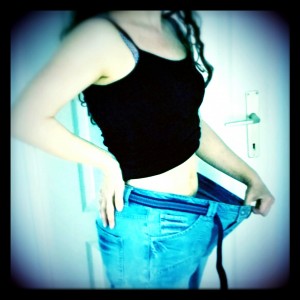 Over time, through trial and error, I finally recognized that what I am doing is not working – the only way I can develop a regular workout plan and routine is if it fits the current state of my body. To achieve this I started with an easy fitness form I could keep up with in the long run – pilates. Going regularly was hard at first, but it helped me develop a core strength and lose those first pounds that was a base for further development. I could begin yoga, then switched to belly dance, and then zumba and gym with a personal trainer – and finally hit the normal weight range! To maintain my workout routine I continuously look for sources to motivate myself, have a way of keeping my exercises fun and exciting. I have also found my fashion style and built new wardrobes to fit my new fit body type (check out my fall/winter and spring wardrobes).

Was I lucky for not having the fat gene? Not at all. I come from a family of overweight people and I've been fat as long as I can remember. Obesity runs in my family so how come I still managed to lose pounds to become fit? Changed my eating habits by incorporating more vegetables and fruit, fought with my family about my new healthy lifestyle, shifted my priorities in life, trained 4 or 5 times a week, learned how to push my limits. Took me 6 years, but I've lost 28 kg / 62 lbs. Oh, and did I mention that I did this at the age over 30?
There are no tricks and secrets when it comes to fat loss and accepting the new fit body. I don't want to sell You any secret to an easy fast weight loss. I learned so much about losing weight properly and keeping it off that I want to share it and help others with body image issues they are facing after significant weight loss. It is a new, unknown struggle to slowly re-calibrate my image of myself. My aim is to give knowledge I've gained while losing weight and keeping it off to others who want to have a healthy, fit and balanced lifestyle they imagined for themselves. The mindset and knowledge I've gathered gives people the ability to develop a well balanced mind, body and soul.
Want to know how I did it? Losing weight to get from fat to fit girl and maintaining that weight loss was possible by following my healthy eating plan even when life was hard. By losing weight in my 30s – after being overweight and obese my whole life – I've proven that it's never too late to start a sustainable new healthy lifestyle and make weight loss permanent.
Losing weight using quick diets or expensive workout programs appeals to the masses because it seems like a quick fix. I chose to lose weight the healthy way: by combining healthy eating, portion control and regular exercise. This is not as exciting as a fast diet, but it offers a real life weight loss that can last.
What is From Fat To Fit Girl? I started From Fat To Fit Girl because I recognized that the distorted body image I have of myself may lead me to dangerous places, even right back to Fat Town where I came from. I want to share the big revelations I came across with others who suffer body image distortion and that is why I wrote free guides to get You started:
Click here to see how I did it! >>
As this is a regularly updated site the best way to use it will be to follow it over time and the easiest way to do this is to subscribe to my newsletter.
Also check me out on Facebook where I have a page set up to share a lot of the latest posts and interesting things. If you have any questions or need my help for anything then contact me at info@fromfattofitgirl.com.
Your friend,
Christina Marky
an ex fat girl