The health benefits of doing yoga are endless: relaxes you and makes you focus, improves flexibility, builds muscle strength, perfects posture, increases blood flow, helps you sleep better, boosts immunity and so on. But can doing yoga help you deal with phantom fat after significant weight loss and help you accept your new fit body?
If you are following my blog, you are familiar with the issue that I had to tackle after losing significant weight: when I looked in the mirror, I saw a new fit body and I couldn't relate to it. I had many other symptoms regarding of not being aware of my smaller body. Read more about my struggle with dealing with phantom fat here>>>
How can doing yoga help you accept your new body after weight loss
Yoga is not just a simple form of exercise. It is way more: it helps you develop a mind-body-soul connection. Your body can influence your mind. If you've taken a nice long walk in the park after a long stressful day to ease your mind and set yourself in a better mood, you know exactly what I'm talking about. On the other hand, your mind can influence your body as well: becoming embarrassed makes you blush in an instant. As social psychologist Amy Cuddy illustrated in her TED talk: just try one of the power poses – stand in a gladiator posture of confidence even when you don't feel confident in order to improve your level of confidence immediately! This is a simple demonstration of how a certain body pose has an affect on your mind.
4 yoga exercises for accepting your new body after weight loss
Here is a list of yoga poses that helped me accept my new fit body after losing more than 26 kg / 57 lbs and having a hard time adjusting to my new fit body:
1. Tree Pose (Vrikshasana)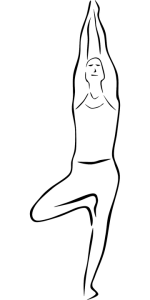 How: Start from standing straight and shift your weight to your left leg. The entire sole of the foot should remain in contact with the floor. Bend your right knee and bring your right foot on the left inner thigh.The hips should be open with the right knee pointing toward the right. Bring your hands in front of you in a praying position. If you feel comfortable, raise your hands clasped together above your head. Hold this position for 20 to 60 seconds, and then bring down your right leg and repeat on the other side.
Why it works: It improves balance, posture and concentration. Practicing this pose has positive benefits on overall balance and coordination.
Contraindications: Knee or hip injury.
2. Warrior 1 (Virabhadrasana I)
How: Stand straight and stretch up your arms, palms touching. Inhale and spread your legs sideways by creating a gap of 2/3 body height. Exhale and turn your trunk facing right while rotating your right foot to face forward and slightly rotate your left foot to the left. Bend your right knee for your thigh to become parallel with the ground. Now your head, chest and right knee and foot should face forward. Hold this pose for 5 breaths, and then repeat on the other side.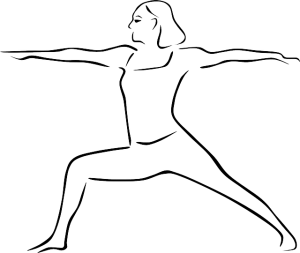 Why it works: Helps you develop concentration, balance and achieve groundedness.
Contraindications: Hip, knee, back or shoulder injury.
3. Cobra pose (Bhujangasana)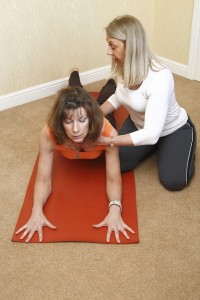 How: Lay on the ground with your chest facing down. Keeping your palms and legs on the floor, lift your chest.
Why it works: It strengthens the spine and stretches your chest and stomach. It relieves stress and fatigue.
4. Bow pose (Dhanurasana)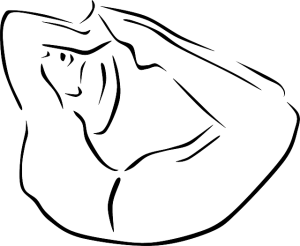 How: Lay on the ground with your chest facing down. lie Grasp both of your feet with your hands to lift your legs and chest to form a bow. Remain in this position for some time, and try to swing back and forth or to the side.
Why it works: It opens up the chest, neck and shoulders. Has a beneficial effect on the whole body.
---
Need more help seeing your new fit body image in the mirror? Get more tips by clicking here >>>