The summer capsule wardrobe I've put together for 2015 is suitable for anyone working a 9 to 5 office job (like myself) and for someone who likes to spend her free time outdoors.
The concept behind the after weight loss summer capsule wardrobe for 2015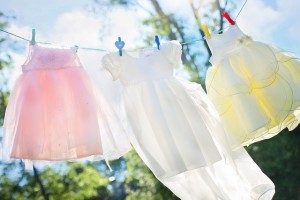 The after weight loss summer capsule wardrobe for 2015 has to fulfill the following expectations :
suitable for minor fluctuation in weight (preferably weight loss)
office friendly capsule wardrobe
wrinkle-free blouses, shirts and skirts (for cutting down ironing time and reduce housework
breezy, lightweight items that are dream to wear
light colors for summer 2015: shades of white, blush, light rose, light blue
simple clothes for leisure time
clothes suitable for a 4 day summer festival
The idea of a capsule wardrobe came to me after I've lost significant weight, and I needed new clothes every 2-3 weeks. I didn't want to shop for new items every 2 weeks, so I came up with a plan to put together a capsule wardrobe that is versatile and that doesn't require too much shopping. That is how my first fall capsule wardrobe was born.
A capsule wardrobe does not mean that you pair down clothing and end up with pieces that you love to wear, but also it helps you define your style and to spend less. During the 3 months you are wearing your capsule wardrobe you are not allowed to buy any other clothing items. This seemed hard at first, but turns out I really enjoyed the freedom it gave me. My mind was not occupied with seeing a top in a shop's window and having the urge to buy it. I remembered that I already own a blouse similar to that one, and I don't need another one. Planning my purchase helped me spend less on clothes overall, and I ended up with higher quality items that I love.
Summer capsule wardrobe 2015 for after weight loss
In my summer capsule wardrobe I used what I learned from my fall/winter capsule wardrobe and spring capsule wardrobe.
A lot of the clothing items from my spring capsule wardrobe transitioned to my summer capsule wardrobe.
As I mentioned before, I have this thing of buying a lot of dresses and end up not wearing them. But I couldn't imagine summer without a summer dress. This was a big problem for me, because I still didn't see myself wearing a summer dress to the office. So to solve this problem, I planned my after weight loss summer capsule wardrobe for 2015 by keeping in mind to have enough tops and bottoms to wear in the office, and also to have a few flowy summer dresses for summer festivals and long walks on the beach.
Here is my full summer capsule wardrobe 2015.
Summer 2015 capsule wardrobe by fromfattofitgirl featuring a shelf bra
What my summer capsule wardrobe for 2015 includes and misses
What my summer capsule wardrobe for 2015 includes:
tops
bottoms
dresses
shoes.
What my summer capsule wardrobe for 2015 does not include:
workout wear
sleepwear
jewelry
accessories
swimsuits
underwear.
The size of the after weight loss summer capsule wardrobe for 2015
My fall 2014 capsule wardrobe was my first attempt at a capsule wardrobe and it turned out to be a wardrobe I enjoyed so much. At first I was a bit skeptic if I could live with 37 pieces of clothing (including shoes, boots, coats, outerwear). But turns out that I don't wear more clothing items than that, so I even ended up with pieces I only wore once or twice.
For my spring 2015 capsule wardrobe I wanted to try with even less items, so it ended up 21 items instead of 37 pieces. I figured the weather is nicer, so you don't actually need much clothing items. I imagined that my summer capsule wardrobe will have even less items.
However, this was not the case. My summer capsule wardrobe has 30 pieces, because in the summer, sweat marks happen. I can't re-wear the same top more times without washing it – thus I am hoping that 30 pieces of clothing will do the trick.
Got inspired to build your own summer capsule wardrobe? Check out my summer outfit inspo album on Pinterest for inspiration!
---
More capsule wardrobes for you to check out:
Need help planning a wardrobe for yourself after weight loss? Check out my guide! Click here to see it>>>