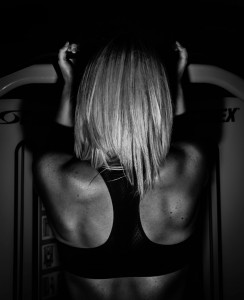 Remember how I've had problems dealing with phantom fat in the past? I struggled with accepting my smaller fit body after being obese and fat most of my life.
After losing weight and becoming fit the issue that I am struggling with is similar to seeing a fat self image instead of a new fit body. The problem I am having is that I can't see the muscles and my body for what it is. After losing significant weight and becoming fit I started weightlifting because I was losing more muscle than fat. So I figured that weightlifting is a way to go to improve my new fit body. Plus, I've read awesome things about the benefits of weightlifting for a woman, so I had to give it a try.
How to address the emotional side of not being able to see your new fit body for what it is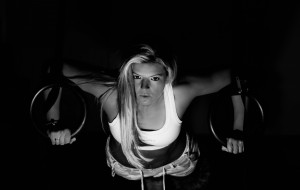 As it feels awesome to be able to carry my own groceries, it feels strange to look in the mirror at the gym to see muscles on my body where there used to be fat. Don't get me wrong, I don't have manly muscles, because a woman can't just get muscular like that with no additional work. I have nice, visible muscles, that give my whole fit body a more feminine look. I look like a girl-beast only when I flex my muscles (joking). My tummy is flat and my abs are visible for the first time in my life! So it's pretty fun to look at my new fit body in the mirror, but yet again I feel like my mind has not caught up to the fit body I have in reality. I see myself in the mirror, I know it's me, but that fit body that is looking back at me from the mirror surely isn't my body, because I am not so fit and muscular.
I remembered the last time when I felt like this was when I lost weight and I was looking at my fit body in the mirror and feeling unable relating to it. It is happening again with my fit body. However, I lived through this before, so this time it doesn't make me think that I am insane for not being able to see my fit body for what it is in reality.
I know that not being able to see my fit body is just a temporary phase and that my mind just needs a little more time to accept the new fit body. [Tweet this!]
I find revelation in the fact that I've been through this before, and successfully accepted my fit body. Now I once again need to accept my more muscular new fit body.
What can I do to speed up the progress of my mind accepting my new fit body?
Having the fit body of your dreams is new: your mind will need time to accept it. It will happen with time, but hey, let's just speed up this process of your brain accepting your new body:
Look at yourself more often: take a photo of your fit body where your muscles are showing and put the photo on the fridge or another visible place

Get workout clothes that accentuate fit body features in the most flattering manner:

look for

a pair of workout pants and/or dry fit top that will make you look into the gym mirror more often!

Take progress pictures: even if you don't see your fit body gains in the mirror, looking back at older pictures (even if it was taken a month ago) will make you see how far you've come.

Ask for reassurance: ask a friend or a significant other you trust if they see your muscles on your new fit body. My significant other wants to touch my abs all the time! Just don't make it a habit to ask for reassurance a lot. Always think about your intent before asking for reassurance. Is your goal to remind yourself of what you already know?

Compare: Look yourself in the mirror at the gym while working out and compare the fit body you see there with other bodies in the gym. You'll see how far you've come.

Go window shopping: Pick something out that you would never have dared to wear before and try it on just for the fun of it! I was trying on some dresses that I would have never even thought of wearing before. I didn't buy it, because I have nowhere to wear it, but damn, I looked good!
Ask for comparing: ask your friend or significant other to point out someone from a crowd of people or a celebrity who has a similar fit body composition as you. You'll be surprised! Also, seeing other people who are similar to you will not trigger the same emotional response as seeing a picture of yourself would, therefore it's helping you rationalize.
Could this be your story too? Are you are struggling with accepting your new fit body? Join my group of struggling girls on Google+! Don't like other people? Sign up for an update about new posts! Click here>>>