We've all heard the misconception that weight lifting will make a woman big, bulky, and she will lose her feminine side. I've addressed these misconceptions earlier, so we've established that weight lifting won't make you accidentally look like The Rock. But what can you do when becoming physically stronger than most of the guys around you makes you feel less feminine and sexy?
Is it possible to stay feminine and sexy as a woman on the inside while weight lifting?
Yes, it is possible to stay feminine and sexy as a woman while weight lifting. But the real question is how? Spending time in the weigh lifting section of the gym among guys 3 times a week can influence not just your weight lifting abilities and body, but your perception of yourself as well.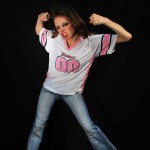 Imagine yourself after few months of weight lifting seeing a guy with big manly muscles use the same weight dumbbells as you. Pretty self confidence booster, isn't it? Now fast forward a few months of regular weight lifting, and you'll be watching more and more guys using smaller dumbbells than you are. After 9 months of weight lifting there will be only few regular guys at the gym using heavier weights for weight lifting than you.
This is exactly what happened to me, and at this point when I realized that I lift more than most of the guys at the gym, I panicked. Suddenly I started to feel less feminine and sexy because seeing myself stronger than most of the guys placed me in front of them on that invisible weight lifting hierarchy ladder in my head. I've became one of the guys. Then I remembered:
My strength does not come from lifting weights, my strength came from lifting myself up when I was knocked down. [Tweet this!]
So how can you stay feminine and sexy on the inside while weight lifting?
3 tips to make you feel more feminine and sexy while weight lifting
Use these 3 tips to make you feel more feminine and sexy inside and outside of the gym while you regularly do your weight lifting routine.
Tip #1:
Spend time with other women
 Spending time in a gym weight lifting where most of the members are guys you are comparing yourself to and competing with is exhausting. All that manly energy and testosterone surrounding you while weight lifting may result in you ending up feeling less feminine and sexy.
What you need to do is get yourself among a group of women. By spending time with woman will make you unconsciously observe their feminine body language and movements, and after a few hours you will start to imitate them. Spending time with women will turn on your feminine side that you've put aside for weight lifting.
Tip #2:
Be graceful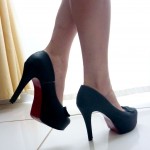 When out of the weight lifting room, make smooth movements instead of powerful ones!
You can teach yourself to be graceful and more feminine. Watch your posture: tighten your abs, move your shoulders down and back, away from your ears and raise your chin to be parallel to the floor.
To walk gracefully in heels or in any other type of shoes, do the following: take small steps, walk heel to toe not toe to heel. Don't rush, lean slightly back while walking and visualize yourself walking in a straight line.
Tip #3: 
Dance
Dance classes are great for improving your feminine posture and teach you graceful movements. Just be sure to choose a dance class that requires you to learn sexy, feminine moves! It doesn't have to be modern ballet, I suggest belly dancing, or my favorite, Zumba! After you learn the steps, you will be able to pay attention to your body movements in order for them to become calculated and fluid.
Get more useful tips on how to motivate yourself towards a more balanced lifestyle! Click here>>>