Yeey, it's FITspiration Friday! Again!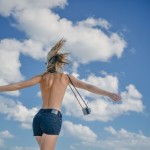 Remember how I shared my current workout routine for building a better booty? Well, starting this week I felt the need to shape my arms as well. I did this by adjusting my gym time from 2 to 3 times a week by adding a day where I tone my arms.
So starting this week a better booty workout routine changes to better booty plus arms workout!
Here is the 1 day Tone my arms workout I added to my 2 day Build a better booty workout:
Tone my arms workout
And because it's hard for me to remember the names of the workout or how to properly perform them, I wrote a cute cheat-sheet with stick figures performing the exercises.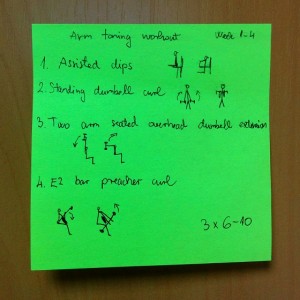 This is an easy arm toning workout that you can incorporate into your current workout routine once a week. If you are looking for a more intense arm toning workout, I suggest checking out the Muscle & Strength website.
This 1 day arm toning workout routine is what I do between the 2 days build a better booty workout routine. I felt the need to add one more day of gym time where my booty and leg muscles rest, because the built a better booty workout routine is pretty intense.
My 3-day a week gym time looks something like this:
Tuesday

– Rest day
Wednesday

– Day 2: Tone my arms workout routine (see above)
Thursday

– Rest day

Go on girl, head to the gym and build yourself a better booty and toned arms for summer! Jump on the bandwagon and subscribe for weekly updates by clicking here>>>