Boy, there are a lot of misconceptions among overweight people who are starting to lose weight about how their life will change for the better after weightloss and 4 of those misconceptions were cropped up in last week's post.
You found out about the psychological issues and wardrobe problems that will arise from getting from fat to fit (see Part 1) and this week you will find out that there are more issues that will freak you out when you hit that desired number on the scale.
Check out the remaining 6 drawbacks from the 2 part series of going from fat to fit that no one will tell you:
5. Cleaning and doing dishes more frequently
If you've lost weight the unhealthy way (extreme dieting, drugs and pills, laxatives,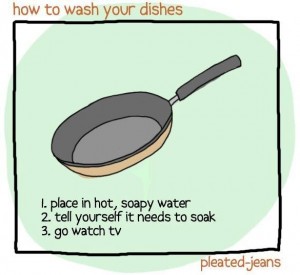 smoking, etc. – don't want to continue the list of giving you bad ideas) then you are not experiencing this one. However, if you've lost weight the healthy way by sneaking veggies into your meals to trim fat and traded takeout menus for a cookbook, then chances are you spend a lot of time in the kitchen. Cutting calories and fat with healthy home made meals means more dirty dishes. Let's admit, it's tough to want to cook when there is a pile of dishes or pans there already, so you will find yourself cleaning and doing dishes multiple times during the day.
6. Your ribcage freaks you out
Weight loss affects your body as a whole.
There is no such thing as losing fat only from

She really likes bones. Not like you.
Image copyright

your hips or thighs. You can't spot reduce fat with diet or exercise.
[Tweet this!]
Fat loss is systematic in your body – if you are female, first you loose fat in the top half of your body. It means that your ribcage will at some point become exposed. Your ribcage becomes smaller when you lose weight because you lose subcutaneous fat, the layer of fat directly below the skin.
It also means that your ribs, collarbones and hipbones will start to show, you'll notice them in the mirror, and it will alarm you. You'll be able to touch them, and when you do so, you will be freaked out about it. You are not used to being able to feel your bones like this, so like all the other psychological issues, you will need to face this one too, and it will take some time for you to accept that it is ok to be able to feel your ribs.
 7. Hands will shrink
Loosing weight means that your body will become smaller. You were prepared for getting rid of your excess belly fat when you started an active, healthy lifestyle. But you weren't prepared that your hands will also shrink! As well as your fingers!
Fingers, just like most areas of your body, can store fat. When you lose weight, your hands and fingers become slimmer along with the rest of your body.  It means that you will have to get rid of all your old rings. However, everyone is different, so it's impossible to predict in advance how much your ring size will decrease after you lose weight.
Tip: try rings on different fingers, maybe you'll be able to wear your favorite ring on a different finger if it gets too big.
8. Feeling cold easily
Having body fat has its advantages: your own body fat helps to keep you warm – it's like an extra layer of clothing under your skin. Scientists found that swimmers with a greater body mass index (BMI) appear to be at much lower risk of getting hypothermia. This means that when you lose fat, you become more vulnerable to the cold – you will feel cold more easily.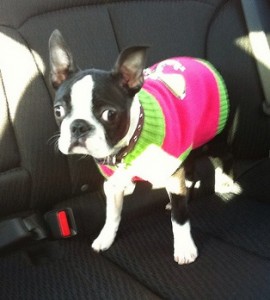 If you feel that your hands and feet are always cold, it may be due to the fact that your calorie intake is too low. You just have to raise your calorie intake by eating more healthy food (the healthy choice is fruits and vegetables) and problem solved! A faster and fashionable fix to this issue is to always take an extra sweater with you everywhere you go, unless it's too hot outside. Building more muscles may also offer protection against the cold, because muscle tissue generates lots of heat. So basically all this means that people who handle cold easily are either fat or fit.
On the bright side, being fit makes summer weather more bearable.
9. Your weight loss will be all that people around you want to talk about
Be prepared that after you've accomplished the goal you thought was unattainable (yes, I mean changing your pudding body to sexy god body), it will draw attention of people around you. It was creeping me out that now after all this time of saying hello and insignificant small talk these people are giving me more attention and telling me how great I look. Makes me wonder if they thought that I was ugly obese before and why none of them ever bothered to bring that to my attention.
Becoming fit also can turn old friends into jealous frenemies. If you come from lalala pink fluffy rainbow land, then this may come as a surprise, but people can get bitter when you accomplish something that they haven't or can't. Family included!
So you can expect that everyone around you will be asking to share your weight loss success story whenever they get the opportunity to initiate a conversation with you. Basically, your weight and looks will be the only thing they really want to talk about. You will be asked about how much weight you have lost multiple times during the day. People will bring up their excuses of how they can't change their bad habits. They will be suspicious of you sustaining your routine and results in the long run.
Tip: when you receive a positive comment about your body, say "Thanks!" and move on to other things. Don't forget to return the compliment later.  Some people like to compliment straight away, but be very careful that you're doing this for genuine reasons and not simply as a way of discounting the original compliment made to you.
10. You won't see your new thin body
People who used to be fat still carry that fat body image in their minds even after they loose the excess weight. Their perception of themselves does not change, and it takes time for their brain to adjust to the new, smaller body size. So basically it means that when you look in the mirror, you'll see a fit body, but your mind will be unable to connect to it, it will feel unfamiliar, outlandish. For you, that image can't match you, because you are fat. So when everyone around you starts to notice that you've become a smaller sized person, you just stand there, and rationally know that you are smaller, but you won't see yourself small. You are, and always have been a fatso.
I already addressed this issue in my previous post about the struggles with body image distortion after weight loss, I will just say that nothing can prepare you for the psychological battle that you will need to fight with yourself about self body image in order to accept your new fit body.
Interested in facts about your body after weight loss? Click here to get more tips>>>